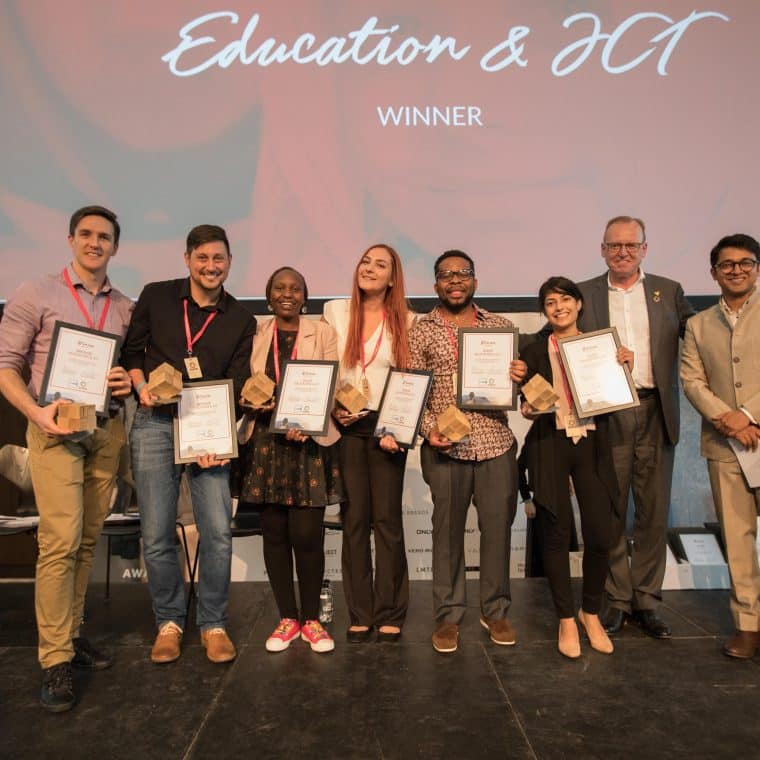 Winners of Education & ICT
GOLD WINNER – HOD – Hear-oes on Demand
Team 18: Silvia Muturi, Ryan Scott, Rick Martin, Nela Sladojevic, Joannes Paulus Yimbesalu, and Madhvi Aggarwal
Solution: 
There are over 1.5 million deaf people in Kenya. The gap between the availability of interpreters and deaf individuals is 1:7500. Institutions which are mandated by the government to provide these services, also face a severe shortage of qualified interpreters. Current monopolistic system takes on an average 75% of the revenue. Our solution disrupts this system through a shared economy model that leverages a web and mobile enabled digital platform to connect quality interpreters to the deaf.
SILVER WINNER – EduLocker
Team 2: Ketaki Desai, Vardhan Kapoor, Aleksandra Kuljanin, Bryan Chesoli, Hama Osman
Solution: Technological development is rapidly outpacing formal education; rendering a plurality of technical skills increasingly redundant – lifelong learning is the only way to prevent this social disaster taking place. MOOCs were believed to be the solution to this issue- however, they failed because they lacked employer credibility. Our solution will verify and aggregate MOOCs in partnership with employment entities to give them real credibility and revive their value; sparking true lifelong learning.
BRONZE WINNER: Nexus Programme
Team 16: Ayomide Akindolie, Camilla Hellemann Sørensen Daniel Vigild & Mohammed Ali Khan
Solution: Nigeria has the world's largest population of out of school children and one of the major barriers to child education is the household economic situation, which requires children to work at home, mostly on the farm. The program incentivizes parents who are farmers to release their children to go to school, by providing agricultural inputs, machinery and training at subsidized rates. The program also leverages existing technology to provide literacy skills training, equipping children with compulsory requirements for primary school entry.