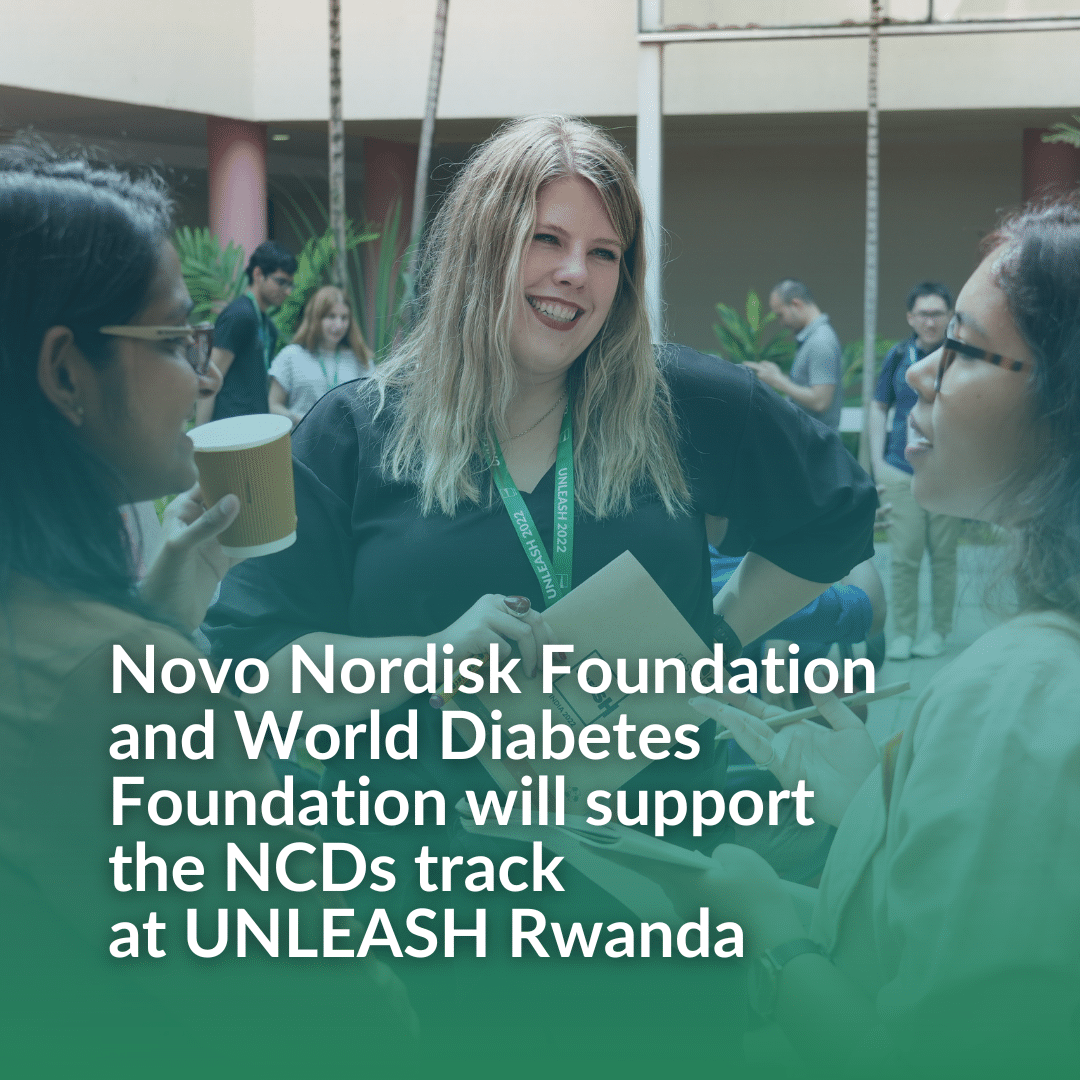 Novo Nordisk Foundation and World Diabetes Foundation will support the NCDs track at UNLEASH Rwanda
The Novo Nordisk Foundation, the World Diabetes Foundation and UNLEASH have joined forces once again to find solutions for a healthier future for everyone. This collaboration builds upon our joint efforts to tackle Non-Communicable Diseases (NCDs).
In the UNLEASH Innovation Lab in India last year, +125 young changemakers worldwide created solutions around NCDs, thanks to the support of Novo Nordisk India and the World Diabetes Foundation. Team HOPE, recognized with the Most Impactful Solution award, showcased a groundbreaking, noninvasive, portable, and holistic diabetes management system. Their prototype utilized integrated salivary biomarkers and a breathalyzer for screening people with prediabetes and people at risk, potentially revolutionizing the diagnosis and monitoring of glucose levels.
This year, our collaboration continues in UNLEASH Rwanda, where our collective focus will be on nurturing the critical mass within the NCDs space that UNLEASH has reached over the years, this time around in the African context.
A dedicated SDG Track will engage over a hundred young minds in the development of solutions targeting NCDs, including diabetes. The goal will be on addressing the escalating challenges prevalent in East Africa, where NCD mortality stands at a significant 35.6%. Talented youth in UNLEASH Rwanda will channel their energy into finding solutions for universal health coverage, community advocacy, early diagnosis, and prevention.
The Novo Nordisk Foundation is UNLEASH's long-term partner, advocating for the intersection of innovation and sustainability across all our programs. "We are proud to support an initiative, that boost the knowledge of young professionals to do more innovation to benefit the world," says Team Coordinator on Innovation Louise Hindenburg. 
The World Diabetes Foundation is once again supporting UNLEASH, after being part of Innovation Labs hosted in Singapore and India, by enabling the NCDs track, providing invaluable subject-matter expertise and continuing to bring awareness to the importance of NCDs around the world throughout the journey. "Since 2018, our partnership with UNLEASH has been a catalyst for innovative solutions dedicated to tackling NCDs. Recognizing that NCDs remain the leading global cause of death, it is imperative to keep these issues at the forefront of innovation. At the World Diabetes Foundation, we see a pressing challenge in the region concerning the detection of diabetes, with 1 out of 2 (54%) Africans living with the disease being undiagnosed. Year after year, we witness extraordinary solutions from talented youth worldwide, enriching our pursuit of diverse, impactful solutions to global issues, particularly diabetes," says Leif Fenger Jensen, Managing Director of the World Diabetes Foundation.
We are excited about the transformative solutions that this partnership will enable, equipping young people to overcome the rising burden of preventable diseases and shaping the future of NCDs through innovation and inclusivity at the core.
About Novo Nordisk Foundation
The Novo Nordisk Foundation is an independent Danish foundation with corporate interests. The objectives are: 1) to provide a stable basis for the commercial and research activities of the companies in the Novo Group (Novo Nordisk A/S and Novozymes A/S); and 2) to support scientific, humanitarian and social causes.
About World Diabetes Foundation
The World Diabetes Foundation is a leading global funder of diabetes prevention and care projects in low- and middle-income countries. Our vision is to alleviate human suffering related to diabetes among those in greatest need. We pursue sustainable, scalable approaches, helping countries meet global goals for improved care of diabetes and other non-communicable diseases.
Since 2002, the World Diabetes Foundation has provided more than 197 million EUR in funding to 595 partnership projects in 119 countries. To learn more, visit www.worlddiabetesfoundation.org