UNLEASH Plus Teams have the unique opportunity to access world-class Mentors and Experts with a broad range of entrepreneurial and sectoral expertise. During the program, Teams consult with both to receive tailored feedback and coaching support to refine their solution and business plans and build their capacities, on an ongoing basis.
Discover the diverse group of Plus Mentors and Experts below!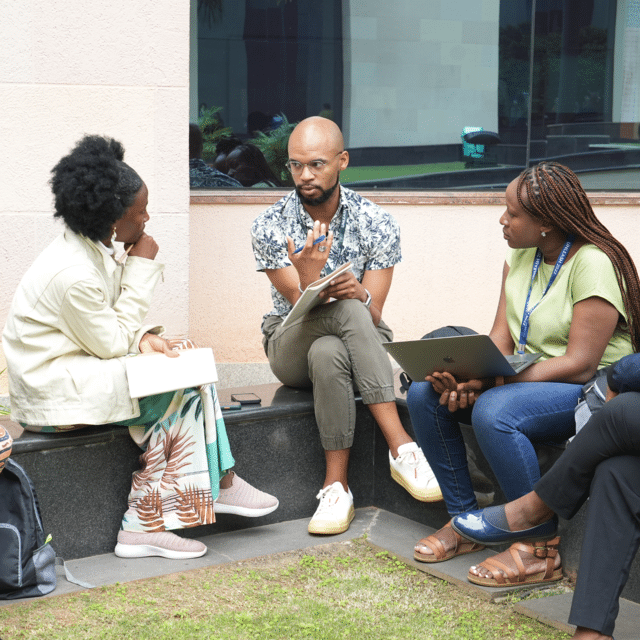 Adrian Watson
Executive Director
Jamaica Environmental Entrepreneurs Advocacy Network
Alfred Kankuzi
Co-Founder & COO
Ana Del Hierro Calvachi
Co-Founder
Anashya Srinivasan
Heritage Protection and Social Impact Specialist
Anupam Saronwala
Advisor, Mentor & Angel Investor
Barry Liner
Chief Technical Officer
Water Environment Federation
Brianne Nakamura
Innovation Analyst
Bryan Molk
Senior Specialist, Innovation
Emmanuel Preko Boamah
Chief Executive Officer
Eric Batliwala
Senior Manager
Gameli Adzaho
Country Technical Lead
Guilherme Castro
AI Solutions Consultant - Energy & Utilities
Joannes Paulus Yimbesalu
Technical Lead - Youth Skills and Employability
Kevin Okwako
Managing Director
Lauren Redfield
Corporate Relations Project Manager
World Resources Institute
Lavanya Garg
Associate Director & Chief of Staff
Margarita Ursu
Media Partnerships and Strategic Communications Specialist
Maria Florencia Estevez
Facilitator | Experience Designer | Human-centered Service Designer | Experiential Learning Designer
Mario Varon
Chief Insights Officer
Mary Munyoki
Chapter Lead
Maryam Siddique
Partner Success Associate
Plug and Play Tech Center
American University of Beirut
Nikhil Devgan
Independent Consultant
Olga Nikolaieva
Legal and Judicial Adviser
USAID Justice for All Activity in Ukraine
Oluwafunke Adeoye
Founder | Team Lead
Paracletworld Service Limited
Sai Siddharth Janapareddy
Senior Program Associate
Seimar Solano Nelson
Senior Consultant
Sergi Fayos Villalta
Executive Director
Shamim Naluyima
Co-Founder
Sreelakshmi K Unni
Senior Program Manager - Technology Incubation
Sukriti Thukral
Co-Founder
Supriya Panchangam
Accelerating Her Business
Tanner Taddeo
Strategic Partnerships
Tanveer Khara
Senior Consultant
Better World Initiative – Genpact
Tchegoun Adebo Koba
Global Technical Advisor Youth Employment and Enterprise Development
SNV – Netherlands Development Organization
Vedhika Anoora
Senior UX Researcher
Vivek Manoharan
Co-founder & Chief Scientific Officer
Test At Home Private Limited
Adham Abdelsalam
People & Culture Consultant
Bhanu Prasad M N
Coach: Impact Innovation and Entrepreneurship
Claudia Makadristo
Founder | Consultant | Advisor
Hillary Eason
Director | Digital Resources | Products | Engagement
International Refugee Assistance Project
Igor Ovcharenko
Founder & CEO
Lauren Behr
Senior Advisor, Innovation & Investments
Jessica Salinas
Chief Investment Officer
Mike Mitchell
Co-founder & CEO
Mimi Liu
Manager, Financial Planning & Analysis
Nikolaj Moesgaard
Partner
Rishabh Lalani
Founder & CEO
Kohmorehbee Consulting Pvt Ltd
Sabira Mehrin Saba
Founder and CEO
Sergio Marrero
Managing Director
Blue Ridge Labs @ The Robin Hood Foundation
Wayne Lifshitz
Entrepreneur & Sr. Director
Do you have any questions for the UNLEASH Plus team?