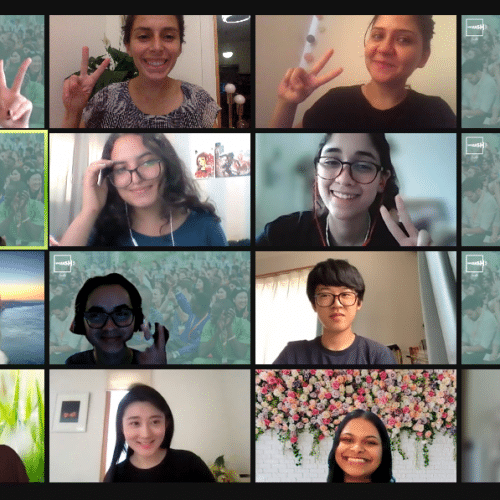 Talents at UNLEASH Hacks create sustainable energy solutions, address climate change, and design to improve learning outcomes
Across three continents and six countries, participants are recent UNLEASH Hacks design solutions for climate change, low learning outcomes, and unsustainable energy
Quality education and access to healthcare are essential to personal well-being and critical for a prosperous and productive nation. The availability of these critical needs and a sustainable way of living and environmental well-being arguably create a better future.
Participants are recent UNLEASH Hacks are placing a big bet on creating societies where all of these are possible. On Saturday, July 3, 2021, young changemakers convened across six countries (Brazil, China, Japan, Mongolia, Liberia and Zambia) to design solutions for their local challenges.
UNLEASH Hacks are localized hackathons designed to facilitate young people to create solutions for the SDGs globally. Over a collaborative two-day period, UNLEASH Alumni and their network organize and convene young changemakers to design sustainable solutions. 1st, 2nd, and 3rd place winning teams receive 400, 300, and 200 USD, respectively, to further develop their solutions.
Read about the solutions our recent talents are designing and building for the SDGs:
Brazil: IB2 Co.
Brazil has one of the cleanest energy matrices in the world. However, the sector has experienced massive transformation to modernize it to fit the current challenging pandemic context. The current circumstances require investing in business models that prioritize renewable energy generation. The UNLEASH Brazil Hack focused on developing ideas that make energy more accessible, efficient, clean and diversified. The winner of the hacks, IB2 Co., is building an off-grid electricity solution. "People in rural places need cheap and accessible electricity due to power instability. We will build and deploy solar farms in various locations, and for any area, we will figure out what kind of energy is needed" and offer such services, a team member, Gabriel Brina, stated. Sharing his experience about the UNLEASH Hacks, "The entire process is amazing, the Miro board is incredible, and the questions from facilitators were helpful. They did not impose. They just asked," he added. After the hacks, the team plans to conduct more research and figure out their business model for the lowest cost possible to run their solutions before engaging investors.
China: Food Helper
In China, thirty-five million tons of food go to waste annually, especially in cities, causing food insufficiency in impoverished areas and widening the regional disparities. China's food loss can feed 30 to 50 million people, and its wastes contribute to greenhouse gas emissions. UNLEASH China Hacks sought to use technology like AI to prevent and reduce food waste. The Hacks winner, Food Helper, is building an app that will catalog and detect food expiration and suggest where economically advantaged citizens can donate food before they expire. A team member, Chi-Hong Cheung, mentioned that "grocery shopping [often ends up expiring], and many of such foods often go to waste." "The design framework and problem framing phase helped us think deeply about the problems and various solutions we could develop," he stated. The team plans to improve on the prototype they built during the hacks, and pilot the initial phase of the solution in the market.
Japan: TechEd
Japan has built a legacy of peace and ICT leadership in the past decades. This legacy offers an opportunity for a deep reflection on sustaining peaceful relations across communities. UNLEASH Japan Hacks sought to engage students and thinkers to ideate solutions for peaceful relations. TechEd, the hacks' winner, aims to strengthen relations among students and professors and improve the learning experience for students. "Students want to ask Professors, but they are hesitant. It is shameful and embarrassing to ask professors or friends questions during lectures directly," stated a team member, Shimon, who concurred that cultural barriers and technology sometimes create an unhealthy relationship. The team is building a gaming platform where students and professors can interact to seek help and offer support where necessary. By participating in the UNLEASH Hacks, "It has taught [my team] to narrow down [our] ideas into proper framing when we develop big ideas, and to be good team players," Shipra Yadav, another teammate, added. After the Hacks, TechEd plans to develop its solution further and seek initial market validation.
Mongolia: Airnomads
Mongolia's capital, Ulaanbaatar, is one of the world's most polluted capital cities. Its ger districts, a form of a residential community, host about two-thirds of the population and suffer from the massive burning of fossil fuels. This challenge generates over 60% of the city's overall air pollution. The UNLEASH Mongolia Hacks focused on advocating for sustainable digital solutions to address air pollution for a healthy future generation. The winner of the Hacks, Airnomads, is creating a solution to transform the district's massive pollution challenge by engaging the primary polluters, local citizens, who burn fossil fuel regularly. The team plans to help facilitate people into better housing to utilize better heating systems and sustainable ways of generating energy. "The government and international organizations manage ongoing housing projects, but local citizens are unaware or uneducated to access them. 80% of the city's air pollution is caused by citizens' use of coal" from living in low-grade homes, stated Egshiglen Chuluunhuu, a team member. Airnomads is building a website to create access and simple-to-use processes for citizens to access housing projects. Another team member, Munkhbayan Togtokh, acknowledged UNLEASH's methodology during the Hacks for helping their problem-framing and solutions process become easier after many difficult trials in the past. Given the diversity of their locations and backgrounds, the team plans to consolidate their plans and ideas after the Hacks to figure out their next steps.
Liberia: Chriskielkia
The impact of climate change in Liberia is severe due to the low adaptive capacities across various sectors. Human and institutional capacity, technology, and infrastructure are limited. The UNLEASH Liberia Hacks focused on improving Liberia's adaptive capacity for climate change. Chriskielkia, the hacks winner, plans to produce charcoal briquettes as an alternative means for charcoal production, which results in the cutting down of trees. The team's representative, Boakai K. C. Hina stated that "95% of households use charcoal. Thousands of trees are cut down, producing carbon monoxide". Carbon monoxide is a toxic gas that affects citizens' health and well-being. The team plans to use traditional coconut shells and palm kernels, among other available traditional technology products. He further stated that "The UNLEASH problem-framing framework and methodology helped us to frame our solution properly. Post-hacks, Chriskielkia plans to develop a plan of action and register their business to begin operations.
Zambia: Healthwiz
Children below the age of 15 in low- to middle-income countries account for nearly 42% of the population. However, they typically have the fewest touchpoints to the healthcare system, if any. Mental and physical health problems contribute significantly to education challenges, including missed school days and high drop-out rates. The UNLEASH Zambia Hacks focused on improving children's health and education outcomes in the country. Healthwiz, the hacks winner, is building a social enterprise that will produce and sell snacks to middle- and high-income families and use the funds to create a school-feeding program to provide free meals and healthcare to students. "Adolescent learners in Zambia need food intake, and improper nutrition can affect their learning outcomes," stated a team member, Tonichi Tataro. I did not think [the experience] would be this mind-blowing. The methodology for framing the problem stands out," another team member, Nelson Ntongama, added. The team plans to partner with the first school and test the prototype as a pilot initiative before launching it fully.