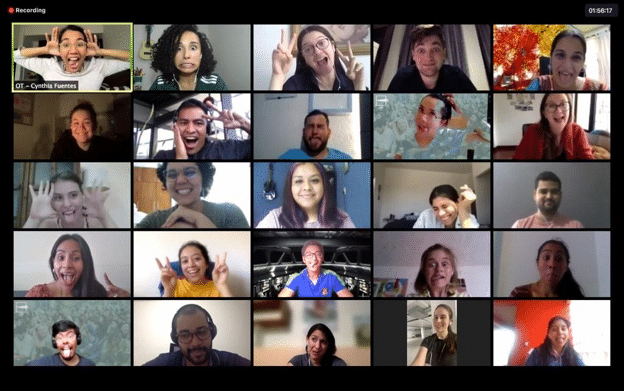 UNLEASH Hacks teams address gender equality, youth unemployment, and coastal threats
Youth-led teams around the world develop innovative ways to address social issues in their countries at a recent UNLEASH Hacks.
The pandemic exposed a variety of common personal challenges people worldwide have struggled with for a long time. We are witnessing deep vulnerability as conversations about mental health, burnout, work-life balance and the ways we live are becoming common trends. As we strive to find solutions to these personal struggles, young leaders worldwide are already finding ways to address large-scale issues that affect our co-existence as a people and our societal well-being.
This act of courage is demonstrated by collaborating with diverse young leaders coming together through the UNLEASH Hacks to find creative solutions to local issues. Inspired by their inherent desire to create a safe, peaceful, and productive world, these young leaders receive the tools and resources to ideate and build out their solutions. The three winning teams win 400, 300, and 200 USD for 1st, 2nd, and 3rd place, respectively, to further develop their solutions.
UNLEASH Hacks are localized hackathons designed to address sustainability challenges in specific contexts around the world. Through a collaborative 2-day event organized by UNLEASH alumni and their network, passionate talents work with local stakeholders and community leaders to collectively solve problems and contribute to the Sustainable Development Goals.
Each Hack focuses on one region and one sustainability challenge. Organized on May 22, 2021, across Pakistan, Morocco, The Gambia, Ghana, and Mexico, the winners of these Hacks address issues ranging from youth unemployment to gender equality. Read on to learn about the winners of each organizing Hack:
Ghana: Adroit
Ghana's unemployment and underemployment rates are intensifying due to the pandemic. UNLEASH Ghana Hack focused on identifying solutions to local employment challenges. Adroit seeks to prevent youth illegal mining. By creating a company that equips young people with technical skills to produce and sell products, the team hopes to develop alternative employment opportunities. The team representatives, Samuel Gariba and Bless Anorpaye, mentioned their excitement from participating in the Hack amidst the challenge of developing their idea. The team plans to build their business model post-hack further.
Mexico: Biosoldiers
As a predominant coastal nation, tourism is vital to Mexico's economy. But 41 of its 58 highly biodiverse coastal areas are threatened. The UNLEASH Mexico Hack sought to create solutions to protect the coastal ecosystem while promoting responsible tourism. Biosoldiers is developing a web-based platform to inform tourists about verified eco-friendly tourism sites to book while encouraging all businesses to integrate sustainability into their business activities.
"The hack was a great learning experience with great methodology from the design to problem-framing and solutions process," stated Alejandro Guerrero, the team's representative. The team is moving on to further developing and implementing the platform and seeking investments for their venture.
Morocco: S(ex) Out Loud
The UNLEASH Morocco Hack focused on improving women's access to sexual and reproductive health services and information. SoutLoud, the competition's winner, addresses the lack of age-appropriate and culturally aware means of learning about sex amongst Moroccan teens. SoutLoud offers a playful approach to SexEd, anchored in Morocco's reality and culture, using video games, anonymous identity, and other relevant tools. The team's PR Manager, Oumnia Bouaddi, stated that their team is excited to win the competition. Their next steps will be conducting a field study to understand their users while identifying their financial needs and fundraising for their launch.
Pakistan: Team C
Good governance remains a major challenge for Pakistan. The UNLEASH Pakistan Hack focused on equipping young people with the capacity and tools to create community solutions to governance challenges. Pakistan's Hack Winners are building an organization for transgender people. As a non-included and discriminated population, Team C wants to create awareness about transgender rights and provide opportunities to educate and equip transgender people with employment and economic empowerment skills.
The Gambia: Ndanaan
The UNLEASH Gambian Hack sought to create solutions that expand internet access and improve learning outcomes for students. The winning solutions, Ndanaan, plans to set up an e-library system for solar tablets in schools during the academic year. The team will design the system to fit the individual student needs and local context and provide students free e-books for core academic subjects, supplemental learning materials, and vocational training for personal development. "I appreciated the UNLEASH method. The structured process to define the problem, while difficult, really paid off at the time of developing the proposed solutions," a team member, Shreya Hasurka, stated. The team plans to stay engaged and work on their solution.
Become part of a Hack yourself
There are still opportunities for engaging in the upcoming Hacks. Currently, applications for Hacks happening on June 26 and July 3 are open. Learn more at www.unleash.org/hacks.