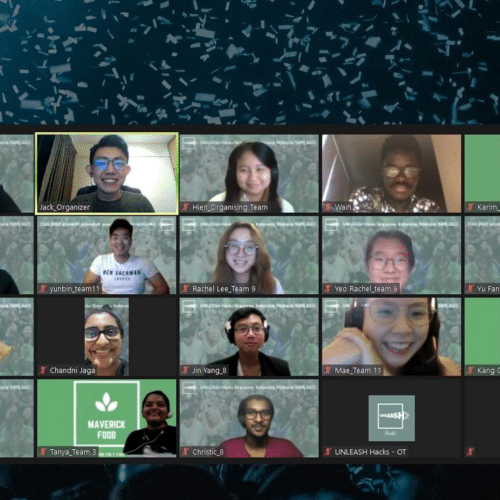 UNLEASH Hacks teams address sustainable living, urbanization and unemployment across Africa, Asia and the Americas
Recent UNLEASH Hacks participants are dissatisfied with the current conditions of living, urbanization, city planning and unemployment  in their countries and are taking action.
From global health crisis to social inequality and slow economic growth, the global population is challenged at an alarming rate. We experience accelerated advancement in science, technology, the economy, and various aspects of how we live and work. However, we also witness the effects of social challenges on our planet, communities, and lives. But young people are creating awareness and taking actions to curb the impact of these global social challenges.
Through the UNLEASH Hacks, localized hackathons designed to enable young people to address sustainability challenges in specific contexts worldwide, young changemakers are developing solutions for challenges their communities and countries face.
Over a collaborative two-day period, UNLEASH alumni and their network organize and convene passionate young changemakers to work with local stakeholders and community leaders to collectively solve local problems globally. From each hack event, three winning teams obtain 400, 300, and 200 USD for 1st, 2nd, and 3rd place, respectively, to further develop their solutions.
On Saturday, June 12, 2021, nearly 300 young people formed about 25 teams across SIM (Singapore, Indonesia, Malaysia), Ghana, India, USA and the Caribbean to address multiple social issues ranging from sustainable living, urbanization, road accidents, unemployment, waste and climate change. 
Here is what these young changemakers are designing for their communities:
SIM: AI-Powered Cooling System 
Singapore launched an ambitious strategy to accelerate the country's efforts to achieve a net-zero emission by the second half of the century. UNLEASH SIM Hacks focused on empowering youth to innovate for Sustainable Living in Singapore. The winner of the Hack competition, an AI-powered cooling system, is building a solution for businesses, targeting shopping mall retailers. "About 60% of electricity bills in Singapore are spent on cooling. If we can cut down the expenses, it will help businesses," stated Jin Yan, the team's representative. "I like the brainstorming and ideation sessions from UNLEASH, and the Miro templates," another team member, Chandni Jaga, stated. As an immediate next step, the team plans to conduct further research into AI governance and analytics and its impact on renewable energy to understand its field and market deeper.
India: Drishti
In 2019, India lost 151,113 people in about 480,652 road accidents due to the enormous strain from road expansion resulting from rapid urbanization. The UNLEASH India Hack sought to develop solutions to reduce economic strain and road fatalities. The winner, Drishti, is building a solution to prevent visually impaired citizens from fatal road accidents on buses. The mobile app will use a GPS tracking system to predict bus arrivals and stops, facilitating independent boarding and deboarding for visually impaired citizens. The team's representative, Nitansha Bansal, admitted that the most crucial takeaway is his team's trust and confidence built in their solution during the Hack. As a next step for the team, "We will research further on the problems faced by our target users and educate ourselves with the technical know-how of mobile applications," Nitansha added.
Ghana: Leash
Ghanaian women face increased unemployment and underemployment, resulting from limited job opportunities and support to women entrepreneurial initiatives. The pandemic has further exacerbated this challenge. UNLEASH Ghana Hack focused on job creation solutions and economic empowerment opportunities for women. LEASH, the Hack's winner, is building a storytelling platform that will partner with influential brands to sell the Ghanaian stories to the diaspora. In turn, the team will use proceeds for local empowerment projects. The team plans to partner with big brands and add their stories to their products for access. "As a next step, we plan to develop our brand. The President's wife has a similar initiative, and we plan to pursue a partnership with [her office]," Nora Saamaa noted.
Caribbean:
Over half of Jamaica's population is vulnerable to hurricanes, sea-level rise, and loss of forest. However, the coastal zone produces 90% of the country's GDP. UNLEASH Caribbean Hack focused on building innovative solutions for biodiversity and climate change challenges in the Caribbean. The Hack winner, Carbonators, is developing a solution to address the near-collapse of artisanal fishing by helping fishing communities grow, harvest, and collect seaweed to supply various industries. Dean Morris, the team's representative, shared that "UNLEASH Has impacted us tremendously. The experienced facilitators taught us over the weeks to properly define our idea and explain our thought process." To bring their solution to life, the team plans to continue building and expanding stakeholder engagements and building their capacity. Subsequently, they plan to attract funding to implement pilot projects with leading partners.
Alabama
Alabama's Black Belt has suffered from a pooling of raw sewage over the past years due to the failure or non-existence of the sewage systems in Lowndes County. The UNLEASH Alabama Hack targeted solutions to address wastewater and sanitation challenges in the region.