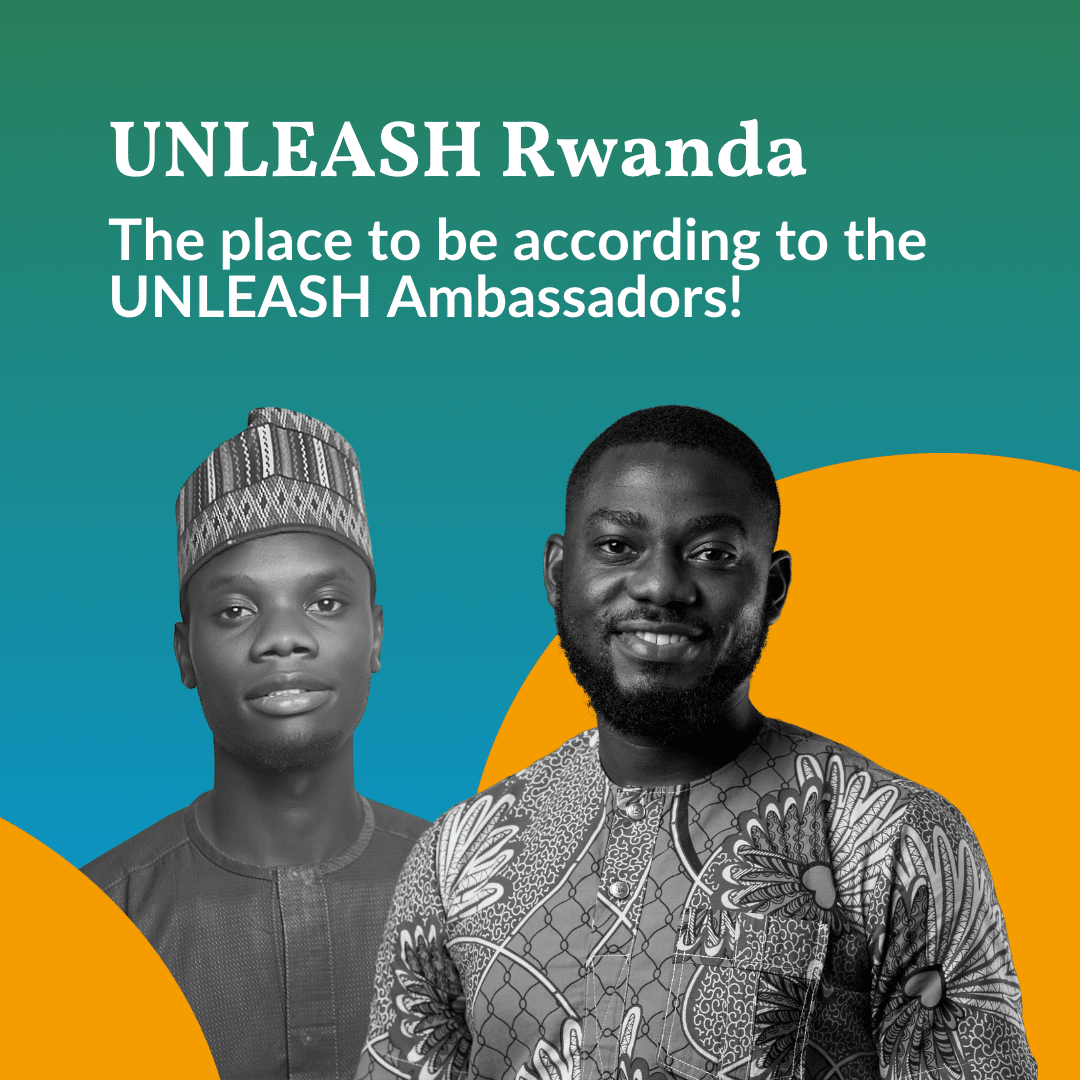 UNLEASH Rwanda, the place to be according to the UNLEASH Ambassadors!
Wondering why UNLEASH is going to Rwanda? Hear from seasoned UNLEASH Ambassadors Zanna Samaila and Andrews Akoto-Addo as they share their perspectives on why Rwanda makes sense for the first-ever Innovation Lab in Africa.
Rwanda! The land of a thousand hills and one of the countries in Africa that is showing a strong commitment to the Sustainable Development Goals. The nation is ranked among the top 2 on the continent and top 40 in the world on ease of doing business; is leading the charge on gender equality in governance with the highest representation of women in parliament globally; and is emerging as a regional leader for innovation, sustainability, and eco-tourism in Africa. That is why we are so excited that the debut of UNLEASH Innovation Labs on the continent is happening in Kigali, its capital!
Do not take our word for it; hear from two of our long-standing UNLEASH Ambassadors from the region – Zanna Samaila and Andrews Akoto-Addo – who are volunteering their time and efforts to bring UNLEASH initiatives to their local communities.
A significant step in Africa's journey toward sustainable development
With its breathtaking landscapes and unwavering dedication to a greener future, Rwanda is poised to become the nucleus of innovative solutions to the wicked problems facing the world today. The choice of Kigali as the host city for UNLEASH underscores the significant impact that a greener environment can have on the world.
As talented individuals from various corners of the globe gather in Kigali, they will be inspired by the country's commitment to sustainability and be propelled to think beyond their scope of experience. With a focus on fostering innovation, collaboration, and problem-solving, UNLEASH continues to build a global community of young changemakers who are actively addressing the SDGs. Rwanda, with its green and sustainable ethos, stands as the perfect host for this transformative event.
– Zanna Samaila, UNLEASH Ambassador, Nigeria
When there's no leader, all you see are problems. 
In my opinion, leadership is simply the ability of an individual or group to solve problems. In a progressive society, there's little time to talk only about problems. Progressive individuals understand that it is more profitable to discuss solutions to existing problems and how to build resilience against future problems. When you solve a problem, you earn the confidence of others for collective impact. This is the reason why I became an UNLEASH Talent in 2019 and my continued and active engagement in the UNLEASH Community.
Now, it is thrilling to know that the next UNLEASH Innovation Lab is set to happen in Rwanda, a country that is living proof of problem-solving leadership in action! Young people who will participate in UNLEASH Rwanda will be inspired by the story of this country's commitment to growth and a sustainable future.
– Andrews Akoto-Addo, UNLEASH Ambassador, Ghana