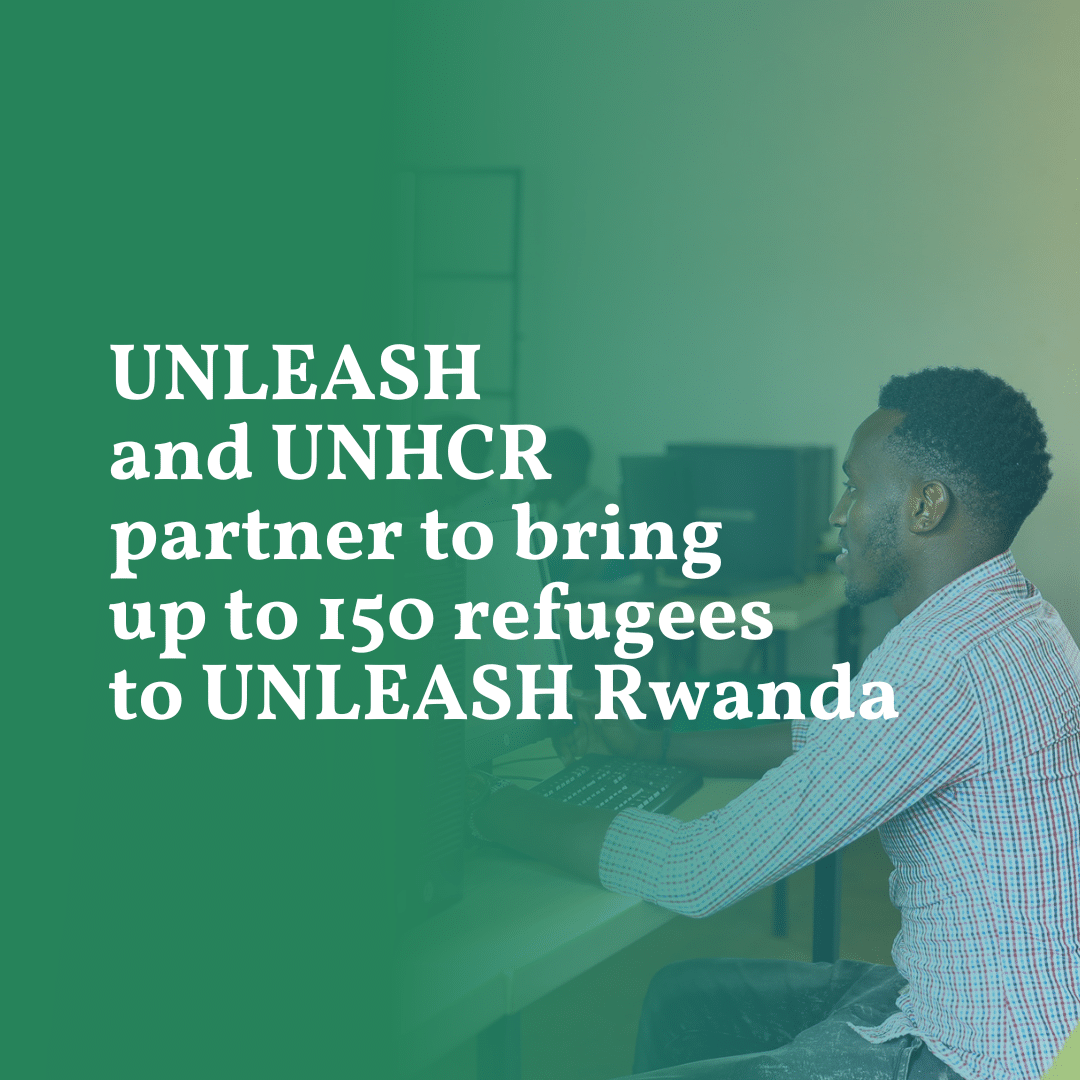 Refugee Youth to Innovate for a Sustainable Future
UNLEASH and UNHCR, the UN Refugee Agency, have partnered to bring up to 150 refugee youth to the UNLEASH Innovation Lab in Rwanda. The collaboration aims to make a lasting impact on the lives of refugee youth residing in Rwanda.
In our ambition to follow the United Nations' principle of leaving no one behind and become the most inclusive platform for young people to co-create a sustainable future, we have partnered with UNHCR in Rwanda to bring the perspectives and ideas of up to 150 refugees, asylum-seekers, internally displaced, and stateless people to UNLEASH Rwanda, our next Innovation Lab. There, together with hundreds of youths from all around the world, they will solve the most pressing challenges that our planet is facing.
Through this partnership, young refugees will participate in the Innovation Lab, where they will immerse themselves in a human-centered design thinking process focused on finding solutions for the Sustainable Development Goals (SDGs), such as addressing the effects of climate change, advocating for sexual and reproductive health, fostering youth employment, amongst other themes.
Besides developing next-generation ideas for a sustainable future, the participants will learn skills and tools that will equip them to pursue a future with social impact and become part of a thriving community of 7,000 young people from all around the world. UNHCR will provide vital support to make their participation in the Innovation Lab possible and support them in their endeavors after the event.
"Refugee youth in Rwanda are brimming with ideas and creativity. Through their participation in UNLEASH's Innovation Lab, they will have the opportunity to realize these ideas and inspire entrepreneurship with youth from Rwanda and around the world. Partnerships such as this are key in providing hope for a more sustainable future," said UNHCR's Representative in Rwanda, Mrs. Aissatou Ndiaye.
Cooperating with UNHCR is at the heart of UNLEASH's vision of achieving the SDGs by tapping into the potential of innovation and inclusivity. "Building a sustainable future for everyone will only be possible if we provide a platform for those who are in vulnerable circumstances, such as refugees, to be part of the solution. We hope that the UNLEASH Innovation Lab will be an enriching experience for them and that their ideas will spur change across the globe," says the Chairperson of UNLEASH Prof. Flemming Besenbacher.