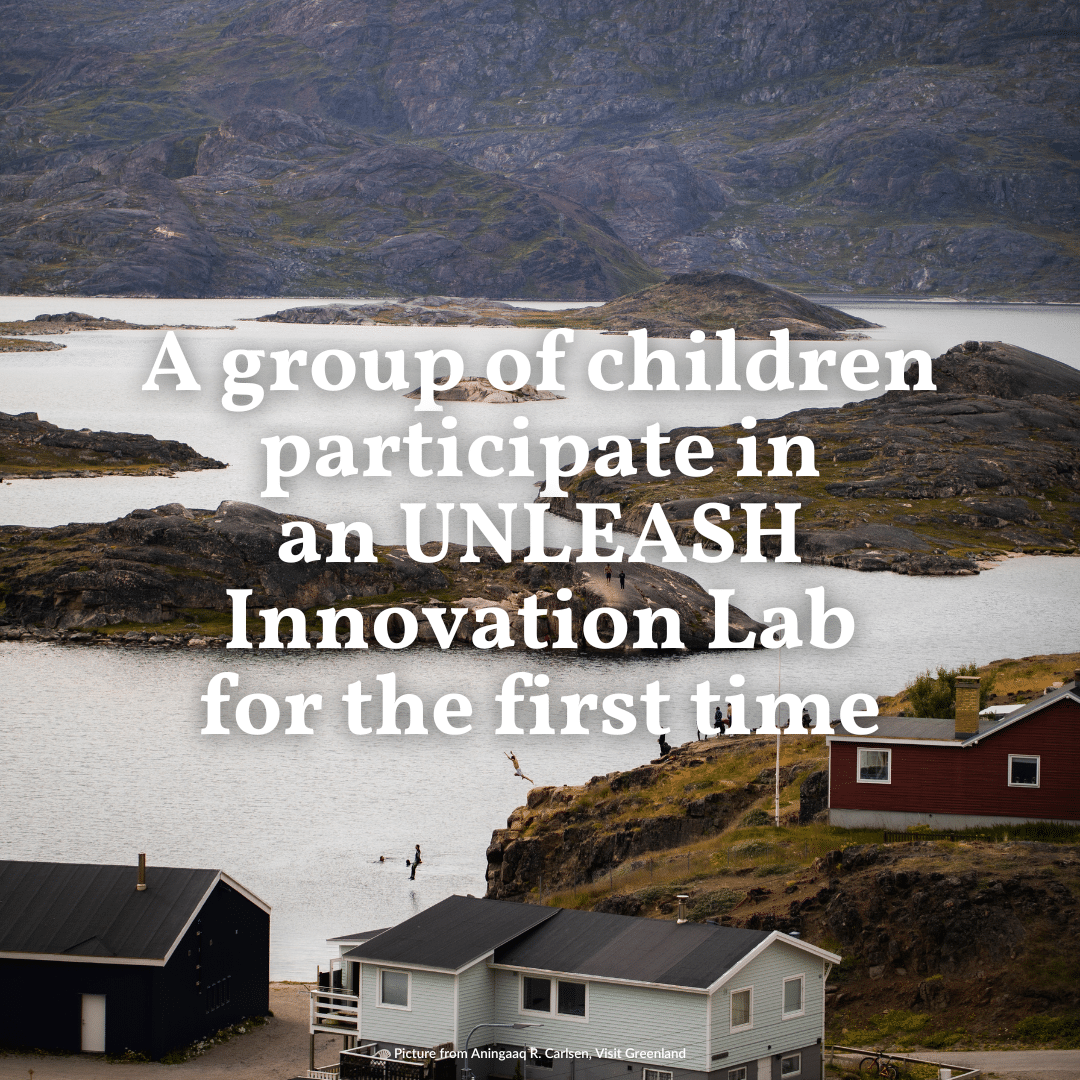 GREENLANDIC CHILDREN TO SEEK INNOVATIVE SOLUTIONS AT UNLEASH
Children from UNICEF's child councils are joining 200 young talents from Greenland, the Nordics, and the Arctic for the innovation Lab UNLEASH, which starts Saturday in Nuuk. The UNICEF – UNLEASH partnership aims to encourage children and youth to act on regional challenges and develop sustainable solutions that can help achieve the Sustainable Development Goals (SDGs).  
Five children with connection to UNICEF Denmark's office in Greenland will be participating in one of the country's biggest sustainability projects when the global non-profit initiative UNLEASH hosts an innovation Lab in Nuuk from the 20th to 27th of August. Alongside 200 selected 18–35-year-old talents from Greenland, the Nordics, and the Arctic, the children will be inspired to develop solutions to regional challenges related to the UN's SDGs.  
The participating children, ages 15 to 18 years old, represent the child council's 'Meeqqat Isummersorfii', which are managed by UNICEF and the Greenlandic government's project 'NAKUUSA'. NAKUUSA aims to strengthen children's rights as well as their participation in society, and the child councils work to have young voices heard by decisionmakers and gather yearly for child summits.  
15-year-old Majli, one of the child council members, are happy that the children get a seat at the innovation Lab in Nuuk as well. Here the children will get a visit from Her Royal Highness the Crown Princess of Denmark: 
"I am participating in UNLEASH, because I would like to be part of making a difference, and because I would like to learn a new working method. I hope to learn a lot from UNLEASH method. I am excited to see if our innovative solution will make a difference. Mostly I am looking forward to meeting Crown princess Mary," she says laughing.
Head of programs for UNICEF Denmark's office in Greenland, Maliina Abelsen, adds: 
UNLEASH have already shown that they can spark joy in creating and power through action within the younger generation, and we are looking forward to seeing children from our child councils flourish alongside the older talents. At the same time, the meeting can help give children's influence on our society a further push, because our staff in UNICEF will be trained in UNLEASH's innovation method. We will use the method as inspiration in our programs, and among others, the yearly child summit." 
The first lab to actively include children 
The innovation Lab in Greenland is the fourth in-person UNLEASH lab since its inauguration in Copenhagen. But it is the first Lab to actively include children. 
"Since the beginning in 2017 more than 5,000 young talents, all above 18 yo., have participated in an UNLEASH event, so for us it's tremendously aspiring to have young people, still not 18 yo., using our methodology to spark new ideas and entrepreneurship. UNLEASH is one of the most important platforms for young people to engage with the UN's SDGs; bringing innovative and scalable solutions to the most challenging problems of the planet and human kind. And this regard, I'm very excited that we, together with UNICEF, can make the UNLEASH methodology available for these very young talents, enabling them to make a difference in the world, and within the home country, Greenland," says Chair of the Board for UNLEASH, professor Flemming Besenbacher. 
It is also the first time an UNLEASH Lab is set to focus on regional challenges rather than global problems. Both children and youth are to concentrate their idea development on the SDGs with special considerations for the Artic. They must seek solutions to the climate changes that are specifically relevant to a region where the temperature is rising faster than it is globally. They must explore options to improve public health in areas with low population density and widespread mental health issues. And they must attempt to crack the code to secure quality education across great distances. 
UNLEASH in Greenland is a high-profile project backed by the Greenlandic government, several municipalities, organizations, funds and more than 50 local companies.  
UNICEF Denmark in Greenland 
UNICEF is the United Nations Children's Fund, working across the world to protect the rights of every child and to help children survive and thrive. UNICEF Denmark is raising money for this effort. Furthermore, UNICEF Denmark works in Denmark and Greenland to promote children's rights and expand the knowledge of these rights. 
UNICEF Denmark has worked in Greenland since 2011 and had an office in Nuuk since
The effort to strengthen children's rights in Greenland is carried out through several efforts. Among others 'NAKUUSA' – a project run by UNICEF and the government of Greenland. NAKUUSA facilitates child participation through child councils and runs campaigns aimed to inspire adults to create safe environments for children'supbringing.