5 teams win USD 40,000 worth of grant money and mentoring
UNLEASH Plus 2021 has been the third iteration of a 6-months incubation program seeking to build the capacities of social entrepreneurs, intrapreneurs, and activists, by supporting them with implementation of solutions for the UN Sustainable Development Goals.
The program is co-hosted by UNLEASH and Chemonics International, UNLEASH's Lead Scale Partner for the 3rd year in a row. The program culminated in a final competitive event, the Dragons' Den, where 11 teams pitched their solutions to a panel of judges, who selected 5 winning teams to collectively receive USD 40,000 worth of grant money and tailored industry mentoring to support the sustainability and viability of their ventures.
Rolled out in a virtual community, the program began in August 2021 with more than 100 teams spread all over the globe. They were taken through a curated curriculum to build skills in effective organizational strategy, team development, solution testing, impact measurement, lean management of their ventures and all the essentials needed to make their solutions viable and sustainable over time. Characterized by iterative processes, communal learning, expert input, and mentoring, each phase of the program – from the initial base camp to the final bootcamp – dedicated teams have received an invaluable skillset and network to carry them beyond the program.
The ultimate Dragons' Den
Yesterday, Sunday February 6th, UNLEASH Plus 2021 wrapped up with the Dragons' Den event which saw 11 UNLEASH Plus teams make final pitches on their solutions to a panel of judges.
This year, the teams that made it to the very end of the program focused on a wide-range of SDGs, including solutions that solve for SDG 2 on zero hunger, SDG 3 on health and well-being, SDG 4 on quality education, SDG 5 on gender equality, SDG 6 on clean water and sanitation, SDG 9 on industry, innovation, and infrastructure, and SDG 14 on life below water. The teams came from diverse geographical locations. The event saw structured and well-delivered pitches from teams including AInWater from Chile, AkoFresh from Ghana and India, Amaly Legacy from UAE, Aqua Biopure from the USA, Flourish from India, NANG TeleHealth from Cameroon, Payless Pads from Liberia, Psigo from Mexico, Vividerm from Indonesia, Wander Woman from Bangladesh, and Weridi from Kenya.
The panel of judges included Jamey Butcher, CEO and President of Chemonics International, Anders Holm, Executive Director of the Hempel Foundation, Mary Munyoki member of the UNLEASH Global Advisory Board, and Bas Godska, founder of Acrobator Ventures.
After judging 11 amazing pitches from the teams, they decided to award 5 teams with USD 40,000 worth of grant money and mentoring to move for5 ward with implementation and scale of their ventures.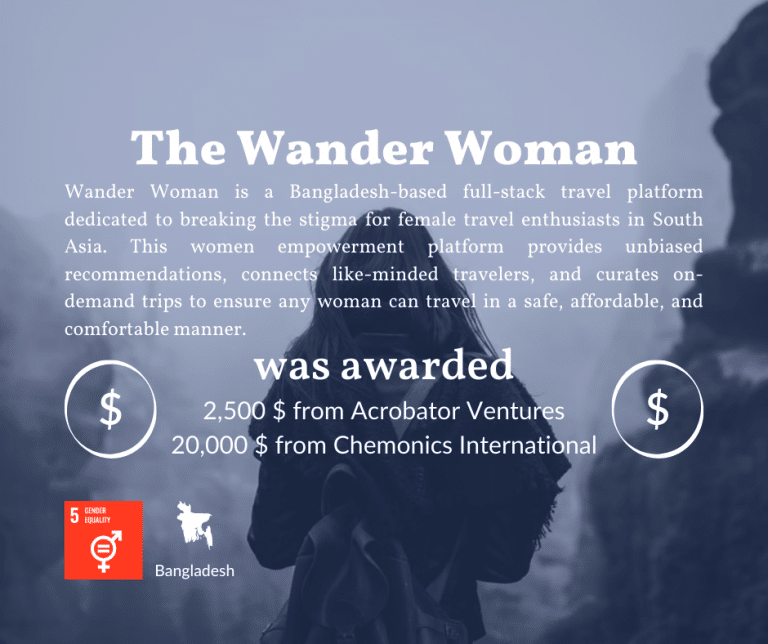 Wander Woman, a Bangladesh-based full stack travel platform dedicated to break the stigma for female travel enthusiasts in South Asia, received a total of USD 22,500: Chemonics International offered a grant of USD 20,000, which was coupled with USD 2,500 from Acrobator Ventures.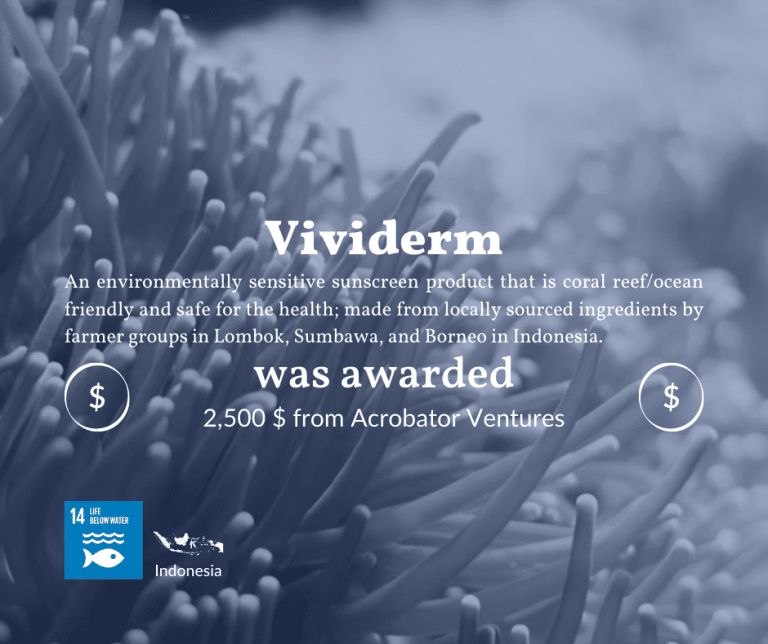 Acrobator Ventures also presented two more awards. Vividerm, which is an environmentally sensitive sunscreen product that is coral reef/ocean friendly and safe for the health, received a grant of USD 2,500. The surprise award went to AInWater– a team from Chile that optimizes wastewater treatment systems using data-driven solutions. Their prize was in the form of an investment deal opportunity!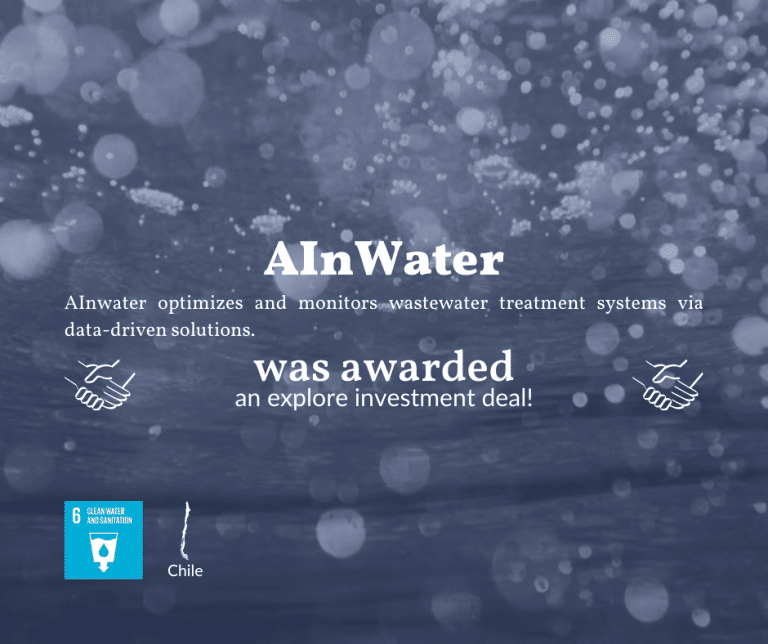 Payless Pads from Liberia also received two grants totalling USD 10,000. Mary Munyoki, on behalf on UNLEASH, presented an award of 5,000, and the second half of their winnings came from the Hempel Foundation.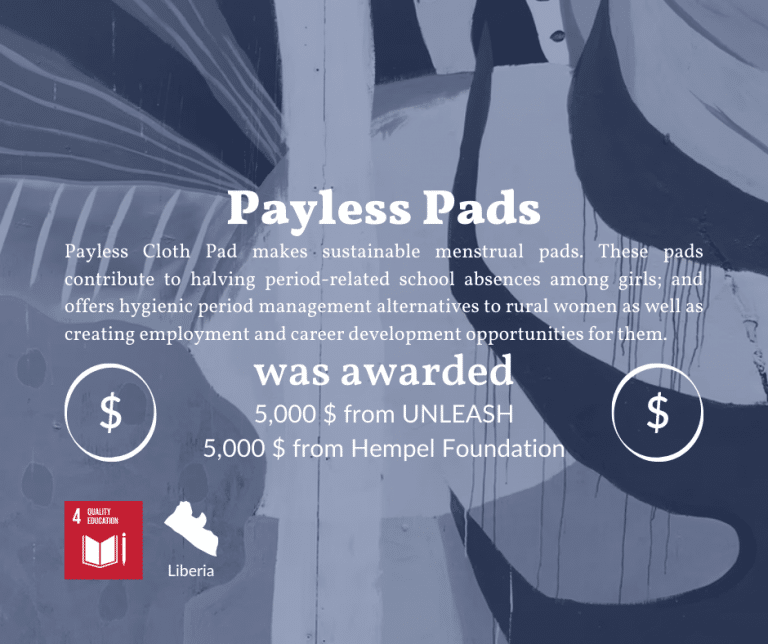 The final award, also from the Hempel Foundation and worth USD 5,000, was presented to NANG TeleHealth, a team from Cameroon that has developed a hybrid mobile application with a crisis response to offer young adults unbiased sexual and reproductive health information.
Congratulations to all the winning teams, and to every team that stayed committed to the last mile! A big appreciation goes to everyone that has been part of UNLEASH Plus 2021. Thank you to all the teams for participating and being engaged, to all the experts for their time, sharing insights, networks, and support, and to all the judges and funders of the winning teams!
We can't think of a better wrap-up for this UNLEASH Plus edition than the words from Jamey Butcher, CEO of our lead scale partner Chemonics International:
Read more about UNLEASH Plus here, and sign up to our mailing list if you want to get the latest news regarding UNLEASH Plus 2022 and the rest of our initiatives.