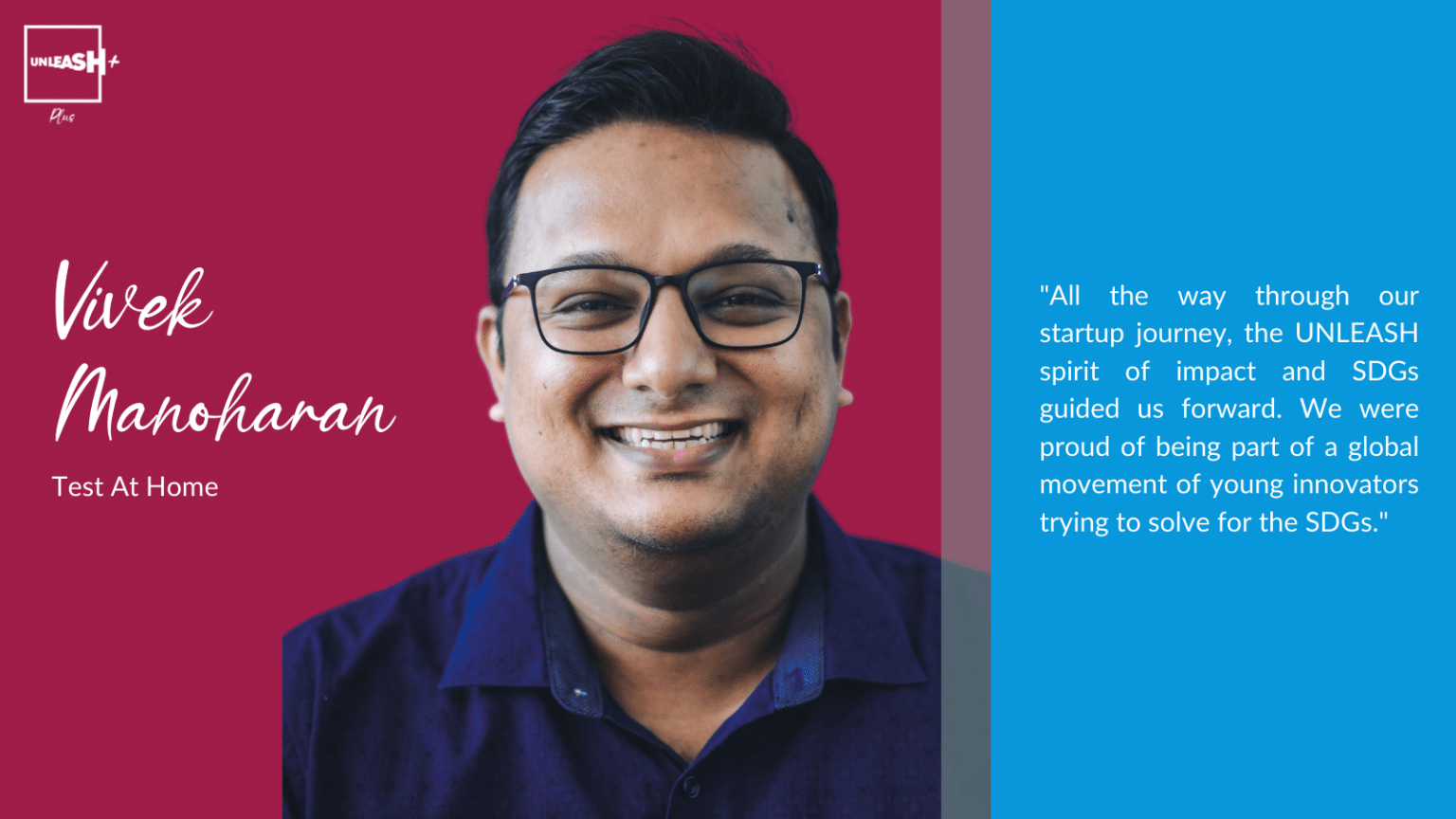 UNLEASH talent creates 'lollipop-like' Covid-19 testing device
While the Covid-19 outbreak in India reaches more than 33M cases and 441K deaths, easy-access and low-resource testing methods are increasingly needed. However, the rising demand for testing methods especially for deep nasopharyngeal swabs has created a supply chain collapse. This is putting healthcare workers at risk, as some collection processes involve processing saliva by spitting, a collection method with a strong risk of creating aerosol transmission.
Vivek and Test at Home (TAH) have created a unique 'lollipop-like' swab that collects saliva from users by chewing it. Its unique features not only make the process safe for any age group to self-collect oral fluid samples, but also reduce the production of aerosols during the collection process, thus reducing the risk of transmission.
With the collaboration of Datar Cancer Genetics and the National University of Singapore, TAH conducted a clinical trial on 150 individuals in India. The 'lollipop-like' swab showed a 95% accuracy when compared to nasal swabs and identified 8 more positive cases. Furthermore, its storing and transporting methods require the same process and set-up as nasal swabs, with no additional steps. Right now, TAH is undergoing regulatory clearance and final quality control procedures for the swab deployment in India, EU, Singapore, UK, US, and Australia for COVID-19 testing.
From an SDG idea to a full-fledged business
Vivek, a UNLEASH 2018 talent and an UNLEASH Plus 2020 participant, is now part of the UNLEASH Ambassador 2021 program, and a mentor for the UNLEASH Plus 2021 cohort. "We are always very proud to witness how UNLEASH talents bring their ideas forward, and in this case we're extremely happy to see how Vivek and the team behind Test At Home managed to accelerate their solution to tackle the spread of the COVID-19 pandemic", says UNLEASH Program Lead, Gregory Pepper.
When asked about how UNLEASH helped shaping his venture, Vivek says:
"Our journey in UNLEASH has indeed been a memorable and a game-changing one; from a humble UNLEASH SDG idea in 2018 to a fairly well-funded business valued at more than a million USD in 2021, with UNLEASH+ support. UNLEASH+ 2020 helped us accelerate our evolution from a lab-based technology idea into a full-fledged business especially in creating and measuring SDG impact. All the way through our startup journey, the UNLEASH spirit of impact and SDGs guided us forward. We were proud of being part of a global movement of young innovators trying to solve for the SDGs."
About Test at Home
Test At Home Pte Ltd. (TAH) is a Singapore-India based startup founded in 2020 by a trio formed by Biomedical Scientist and Engineer Dr. Vivek Manoharan, medical industry business veteran Ms. Kanupriya Batra, and Singapore-based clinician Dr. Terence Tan. Their mission is to simplify medical diagnostics with convenient home-based testing, and, beyond their imminent focus on the Covid-19 pandemic, they are looking at expanding their proprietary testing technology to upper respiratory tract infections and other diseases, such as tuberculosis, STI, food sensitivity, and dental health.
They have raised funds from the VC firm Antler, and in India they're part of Atal Innovation Mission Incubation Centre and supported by Jumpstart Singapore, Datar Cancer Genetics (a coalition from India, UK and Germany), Nanyang Technological University, Singapore and National University of Singapore.
Test at Home is now looking for more partners and investors to bring their innovation to the entire world.
Learn more about Test At Home Pte Ltd. (TAH) on their website, and get in touch with Vivek here.
If you want to be involved in any of the UNLEASH initiatives, sign up for future opportunities here.