UNLEASH Talent Helps Fight COVID-19 in India through manufacturing decentralization
UNLEASH Talent, Vaibhav Chhabra, and his venture, Makers Asylum, have been helping to respond to the recent wave of COVID-19 in India by building an open-source oxygen concentrator.
The resurgence of the COVID-19 has recently struck India. The nation has witnessed 27.2 million cases (24.4 million recoveries) and about 311 thousand deaths. However, within the past weeks, global and local efforts have combined to address the situation in India.
The number of new cases currently stands at nearly 208,921, a significant decline from about 401,078 on May 7. Among several institutions and individuals working to curb the spread of the pandemic across India is UNLEASH Talent and Facilitator, Vaibhav Chhabra, Founder and Chief Learning Officer of Makers Asylum.
Vaibhav is a mechanical engineer by profession and carpenter by passion. After graduating from Boston University, he spent two years building portable Virtual Reality-based eye diagnostics devices at EyeNetra, an MIT Media Labs startup where he worked. He later founded Makers Asylum, a community space fostering innovation through hands-on learning.
Makers Asylum hosts various labs to facilitate the prototyping of ideas that are interdisciplinary in nature. As the pandemic ravaged India, Vaibhav and his team worked on their #M19Initiative, a massive open-source movement producing protective equipment for frontline workers. #M19Collective is a collection of makerspaces, community hubs, industries and individuals making a collaborative effort to foster open innovation and especially open health around the country using decentralised approach and knowledge sharing!
In response to the recent wave of the pandemic, Makers Asylum is working to decentralize manufacturing, a process they believe is crucial to "solving problems [about] healthcare" in India. The initiative's objective is to "build an Open Source Oxygen Concentrator – M19O2  that can be made with locally sourced materials in India to offer a decentralized way of manufacturing and bring relief to the extremely resource crunched hospitals".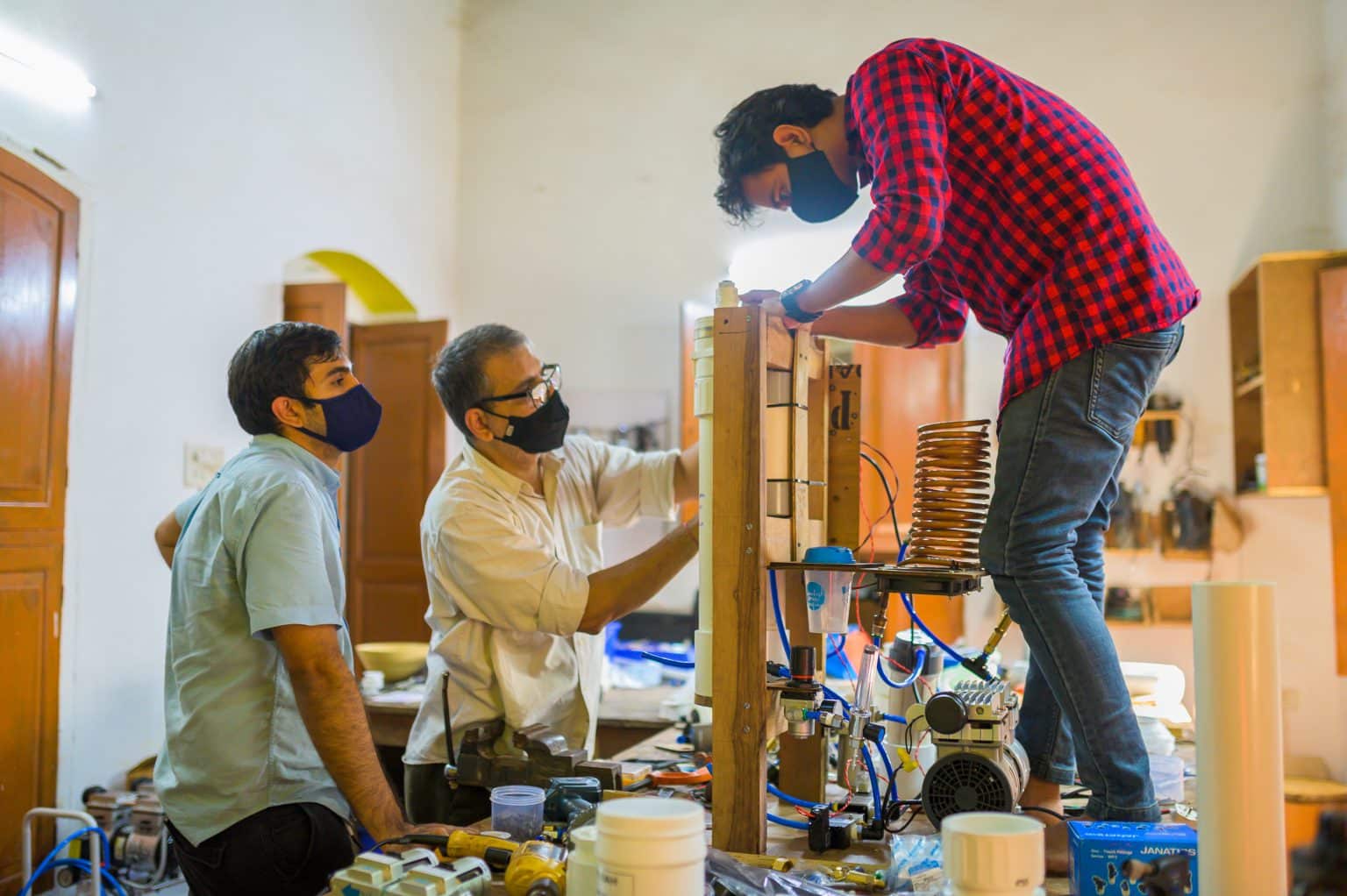 The objective of this project will target two big gaps in India – skilling and lack of oxygen. It will help enable community-led problem solving that not only looks at a short term problem but also builds resilience for the future through open innovation. #M19Collective stands 150 labs strong with over 600 people already actively working for the last 3 weeks to make these with their available resources across 10 states in India.
For COVID-19 patients, global health regulators recommend that the target oxygen saturation range be between 92% and 96%. The M19O2 that Maker's Asylum produces contains greater  than 92% concentration and "provides immediate access of O2 up to 15 litres per minute (LPM)."
Take a look at the design which is based on  the open source Oxikit project here and donate to Makers Asylum's effort to decentralize manufacturing in India here and outside India here. To provide ongoing support to Makers Asylum, read on here.