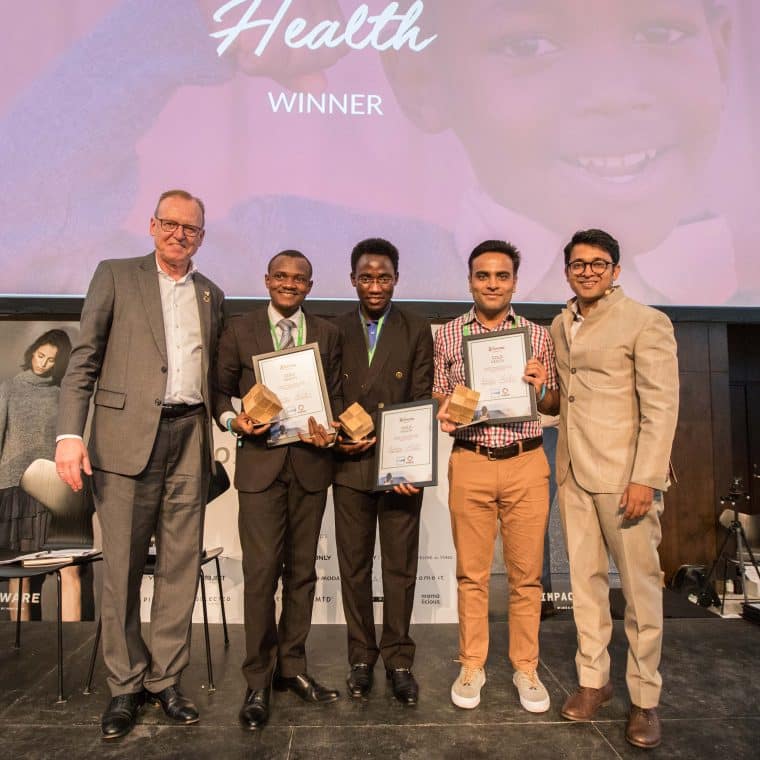 Team 19: Akshay Navaladi, Adebisi Adenipekun and Desmond Nji Atanga
Solution: 
120,000 children die due to counterfeit antimalarial drugs in Africa each year. In Nigeria alone, over 70% of all drugs sold annually are counterfeit. Existing solutions to tackle this problem have proven to be expensive and inadequate. Hence, Block Fakes propose using blockchain technology, which is a secure, immutible and auditable solution for tracking the movement of drugs along the supply chain, so that patients benefit by having a verifiable record of their drug's provenance through the app.
SILVER WINNER – Afterain
Team 26: Anne Charpentie, Confrey Alianji, Jordan Freitas, Khoo Yi Feng, William Stubbs and Seng Bu
Solution: People displaced by conflicts often encounter psychological trauma and mental health issues due to the stressors of violence and uncertainty. Couched as subversive therapy, Afterain provides a free toolkit to displaced persons to learn art skills while undergoing art therapy.  Selected art pieces then adorn the covers of high quality notebooks that will be sold locally and overseas. The profits from these sales expand the art therapy program and help purchase new equipment and supplies to upgrade camps.
Afterain is a sustainable, innovative social impact business model. Life-changing notebooks that rewrite the mental health and wellbeing of displaced people.
BRONZE WINNER 1 – Dearly
Team 5: Chun-Hao Huang, Christian Bjerrekaer, Yassine Harzallah
Solution: Dearly designs and builds an artificial intelligence platform to help people monitor their health at home, with the ultimately goal of lowering the colorectal cancer mortality. 
BRONZE WINNER 2 – Vital Vans 
Teams 22: Bukola Bolarinwa, Natasha Koermer and Lazarus Eze
Solution: Vital Vans is a low cost, effective and sustainable solution to the problem of inadequate blood supply in Nigerian hospitals occassioned by insufficient voluntary blood donations and a weak healthcare infrastructure. It works by removing key barriers to donations using technology to recruit, connect and collect blood and then delivering it to hospitals in semi urban areas.