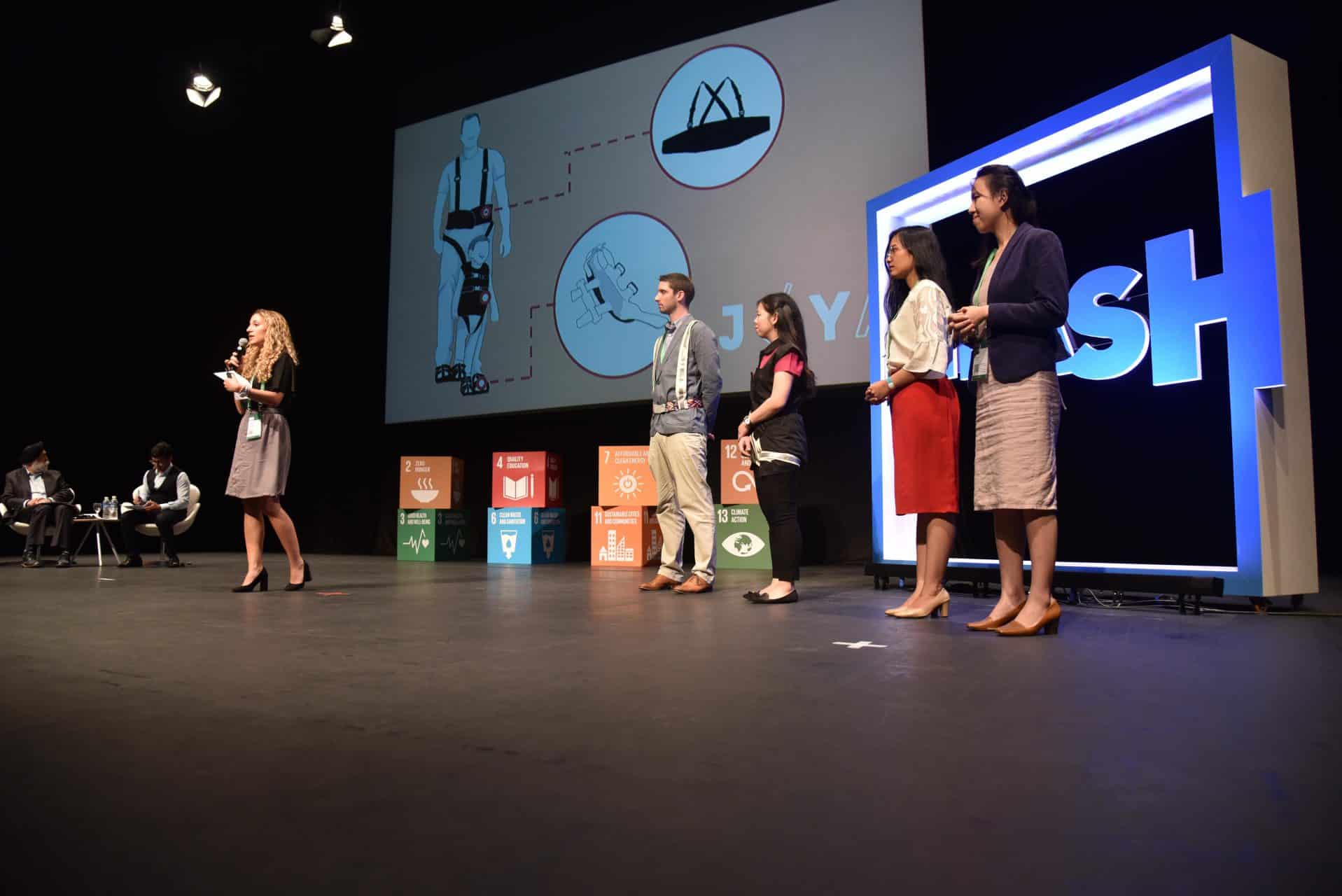 Winners of SDG 3: Good Health and Well-Being
Gold winner: JOYA
JOYA won gold for their solution, which would give mobility and safety to children with lower limb disabilities.
In favelas of Rio de Janeiro, children with lower limb disabilities have difficulties accessing healthcare services. The rough terrain of the favela limits the child's movement, preventing parents from bringing them for medical treatment. Despite the existence of mobility aids, the high price and maintenance of these equipment poses an issue. Our solution is to provide walking aids for easier access, allowing parents to bring their child with lower limb disabilities to healthcare services.
JOYA is a walking aid device that will enable children to regain mobility skills. JOYA provides the child with the opportunity to move through leveraging on a harness that is attached onto a parent for lower limb motor movement. The harness works through strapping the child and parent individually with built-on sandals. As the parent walks, the leg movement would incline the child's limbs to move as well, enabling them to move from one point to another. This platform enables the child to travel from their home to designated healthcare services. The users are children with lower limb disabilities in favelas, while the customers are their parents/caregivers. Our solution would solve the problem of mobility for the child to move from one point to another. At the same time, it will ease parent's burden in bringing them around.
Silver winner: 123+
123+ won for their solution to decriminalize homosexuality.
123+ represents the spirit of the 123 countries who have decriminalized homosexuality. Their mission, by 2030, is to shift all countries with some form of criminalization (currently 72) at least one degree towards legalization. To do that, 123+ will provide an online hub, Rally, to link glocal LGBT+ communities in need of capacity-building, resources, or best practices with those who are able to offer support.
There are an estimated 28 million LGBT+ people living in the 72 countries that criminalize homosexuality. Countries in the Global South and East require substantial resources but are unable to access the support they need to advance the decriminalization of homosexuality because of high fragmentation and an inability to connect with those who have the means to support them.
The 123+ platform is an incremental open innovation that amplifies existing communities' initiatives for resource sharing and optimizes resource allocation. Local communities are more knowledgeable about existing problems but lack the necessary resources to tip the situation towards a solution.
Bronze winner: BREASense
BREASense won for their solution for early detection of breast cancer.
Women above the age of 40 in rural Thailand need awareness on the probability of getting breast cancer, risks of late diagnosis, self-diagnostic practices and treatment method, and tools for self-diagnosis because while early detection of breast cancer drastically improves the survival rate, a lack of awareness and related self-diagnostic practices is reducing early detection, leading to a higher mortality rate. We created #BREASense, a product that is tactilely engaged, yet visually discreet.
Created from soft recyclable silicone with embedded recyclable PLA, it provides users an extremely intuitive way to simulate self-examinations in a tactile fashion. Most importantly, it can be shown in public without drawing too much unwanted attention. #BREASense will be attached to common products, be it generic or those specific to women. Beyond tactile education, the associated #BREASense hashtag and QR code will direct people to an existing Breast Cancer awareness and education platform. Most importantly, this solution is highly scalable. #BREASense's introduction will effectively cultivate greater breast cancer awareness for rural Thai women.
This theme is sponsored by: