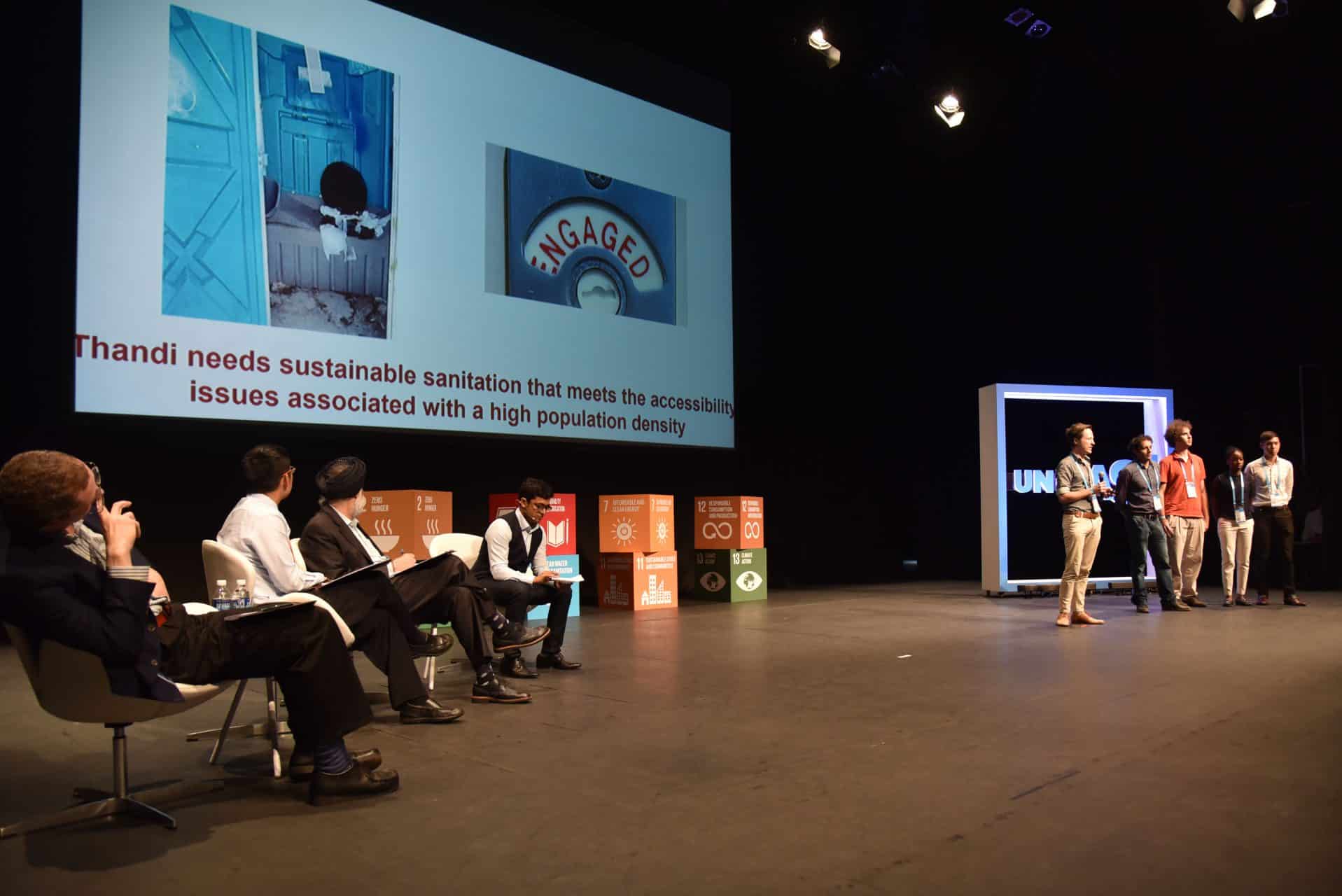 Winners of SDG 6: Clean Water and Sanitation
Gold winner: SaniHive
SaniHive won for the solution which would provide better access to sanitation for people living in slums.
Urban slum communities in Khayelitsha, South Africa need sustainable sanitation that meet the needs of high population density. The current temporary portable toilets are largely inaccessible due to space constraints leading to situations where 20,000 people in Endlovin, for instance are expected to share just 380 toilets leading to poor sanitary conditions. Furthermore, community members have to walk long distances, often at night and in high crime areas, to these toilets.
SaniHive has identified that accessibility is largely the underlying issue in an urban slum, and have: 1) developed a modular approach for integrated toilets systems inspired by the spatially optimized structure present in beehives. 2) developed an integrated system that allows for resource recovery (urine for fertilizers and feces for composting); the money from this can provide jobs for community members as maintenance team and cleaners and assist with installing more systems thereby empowering the community.
Currently the portable toilets are inaccessible, far away for much of the population and poorly maintained due to high population density. SaniHive maximizes the space and amount of toilet facilities while attending the complaints of the users such as the smell in the portable toilets.
Silver winner: EmpowHer
EmpowHer won silver for their solution, which is biodegradable pads for young girls to avoid lower school attendance.
Female students aged 9-18 in T'Boli (Philippines) have lower school attendance than males due to poor menstrual health management (MHM). EmpowHer will provide free biodegradable pads for 7,000 of these girls, allowing them to manage menstruation. They will be made from water hyacinth, corn cob and rice paper – all low cost, local materials. Reaching 2% of women in urban areas will mean we are financially sustainable after five years. The local production facility will be a knowledge hub increasing awareness and breaking taboos.
Our product will be provided free to girls aged 9-18 in this community and sold at cost price to women aged over 18 in the community. The pads will be sold at market price (120₱ per pack) in surrounding urban areas, covering the added costs of providing free pads for those in need.
Bronze winner: S.Q.U.A.T
200,000 occupants of Korogocho slums in Kenya have inadequate access to toilets, resulting in dumping 140,000 litres/day of fecal sludge into Nairobi river. Our solution is to install new collection tanks fitted with water-level sensors onto the existing 6,700 toilets, which will send an SMS to operators when the tank is ready for replacement before it overflows. Our partners Sanergy and Sanivation will treat the collected sludge and convert it to bio-charcoal and fertilizer for economic gain.
S.Q.U.A.T will
Improve existing toilets by installing tanks with sensors to address overflow problem.
Provide affordable clean sanitation for all in Korogocho: Users are already paying a collection fee of 2 USD per household per month, and the intend is to maintain this same cost or increase it slightly, with the added benefit of improving their sanitation facilities.
Reduce environmental pollution: Eliminate fecal matter contamination of soil in Korogocho and save Nairobi river from 140,000 liters of fecal sludge per day by partnering with Sanergy and Sanivation, which convert waste into reusable fertilizer and bio-charcoal. These will be sold back to the slum at a subsidized cost and hence expand the market for our partners.
Reduce the toilet to user ratio from 1:30 to 1:15. This will be done by providing an additional 6,700 mobile toilets at specific locations within the slum.
This theme is sponsored by: