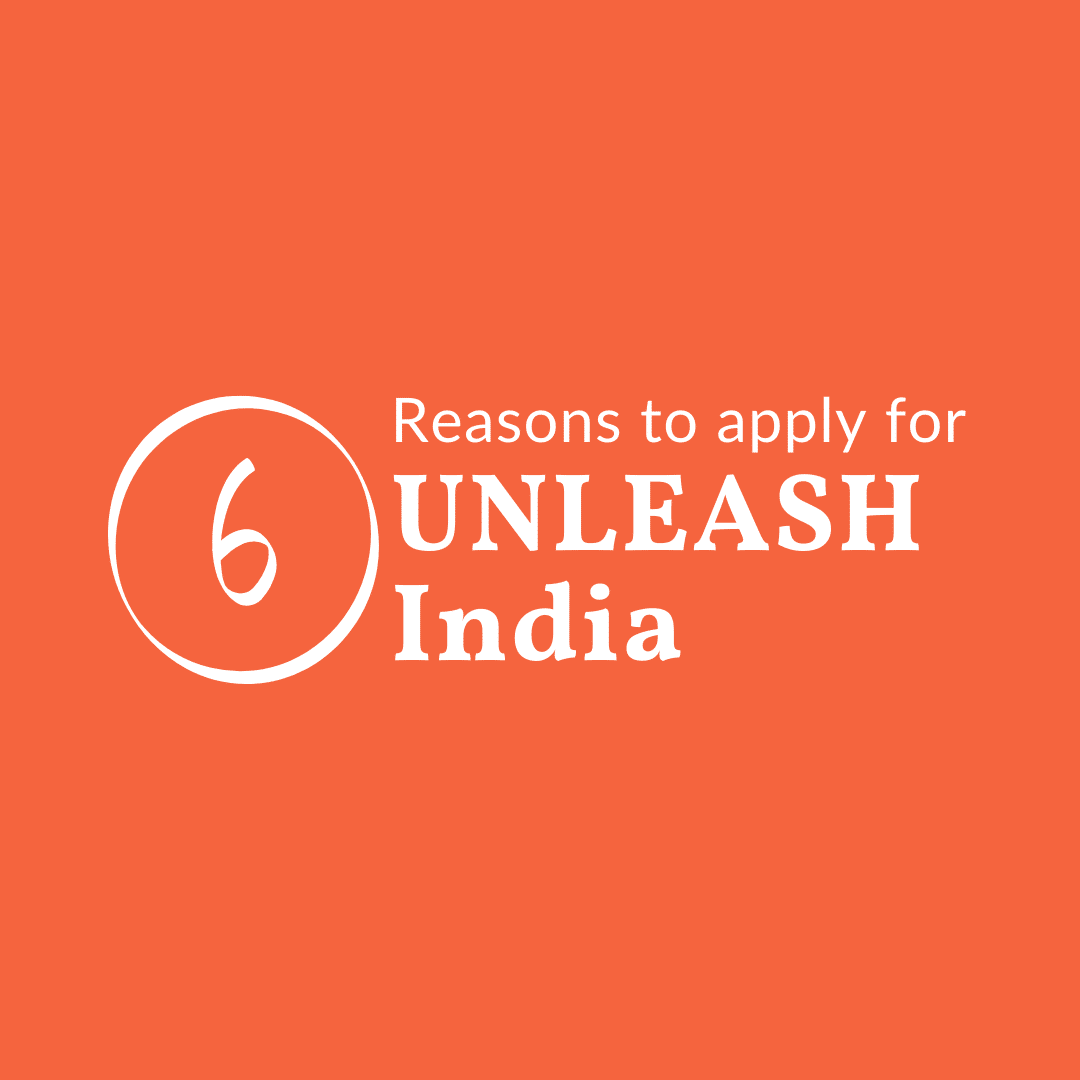 Why should you apply for UNLEASH India?

Here are

6

r

easons

that will convince you to join us in Karnataka this December!
This year, UNLEASH will finally host its annual Global Innovation Lab! This time it will take place in Karnataka (India), from December 3rd – 11th. 1,000 young people from all corners of the world will spend one week together to find solutions for the Sustainable Development Goals, focusing on healthcare, education, energy, water, climate change and biodiversity.  
Just as we did a few weeks back for UNLEASH Greenland, we asked the UNLEASH team why they think you should apply to the program and here come their answers to why this is such a great opportunity! 
Become a social entrepreneur through learning by doing 
During the week-long program, you will join a team with other young people from all around the world, and together you will go through the UNLEASH innovation methodology to find new solutions for a challenge based on one of the tracks of the Innovation Lab.   
The UNLEASH methodology is based on human-centered design thinking, an innovation process that puts humans at the center of every discussion, to ensure that the real needs of people become the north star of the project.  
This may sound complicated now, but it is quite simple, we promise! And the best thing is that this process can be applied to any field, so once you learn it you will get new skills and tools that will help you in your future career, no matter your area of expertise.
Be part of a collective solution
Individual efforts to ensure a better future for our planet are commendable and necessary, but we need organized and large movements to make sure that change happens fast enough. The energy of 1,000 young people together, all working towards the same goal, is unstoppable.  
Get inspired by Karnataka and experience a new culture
Karnataka is India's hub for innovation, and it's also home to the largest number of waterfalls in the country – with 35 of them across the state. During the week you'll spend in India, there will be plenty of opportunities to explore the beautiful nature of Karnataka and the entrepreneurial cities of Mysore and Bangalore, and to get to know more about the country's culture.  
To make this opportunity accessible for everyone, UNLEASH will cover the costs of flight travel, visa, transport, accommodation, food, curriculum, facilitation, and program activities for the event. Check our FAQs for all the details about the expenses of the Lab. 
Stay at the high-tech Mysore Campus
The UNLEASH Lab will take place at Mysore Campus, India's biggest training campus and the world's largest corporate university. During the week, we will also explore Bangalore, the Silicon Valley of India, and a very attractive spot for entrepreneurs. UNLEASH talents will have an immersive experience by innovating for the SDGs in a leading ecosystem for innovation.   
Get mentored by lead experts in sustainable development and social innovation
During the innovation process, you will be guided by experts in the different fields that the thematic tracks focus on, facilitators who know the UNLEASH methodology inside out and potential investors for your newly created projects (or future ones!).  
Build an international network
Joining UNLEASH India will give you immediate access to 999 potential friends with common interests and passions. By participating in an UNLEASH program, you will also be part of the UNLEASH Community, which brings together +5,000 talented individuals who share opportunities and insights on social innovation and the SDGs on a daily basis!  
On our platform (available as a social network online and on Google Play and the App Store) you will find initiatives and content related to your interests. Our community also includes a network of partners and investors who provide opportunities to help you with developing your solutions and advancing your career in the SDGs.  
You will also get to engage in other UNLEASH programs, such as UNLEASH Plus (our 6-month incubator) and UNLEASH Hacks (two-day ideation sprints), and you could even become one of our future Ambassadors! 
Ready for the challenge?
Apply
to UNLEASH India before 05/06!